Wet Plate Shooting Night Workshop!
Posted on Saturday, 18 May
Already taken a wet plate workshop but want more practice? No problem! Our Wet Plate Shooting Night Workshop on May 29th is for shooting and troubleshooting the wet plate collodion process with the skills you already have but want to perfect. Expand your wet plate and alternative process community by bouncing ideas off of other wet plate shooters in this workshop!

Register here by THIS WEDNESDAY, MAY 22ND:
http://capworkshops.org/2013/01/29/wpsn5-29-13/
From Our Community: Brooklyn Bridge Park Bluebell Photo Contest!
Posted on Friday, 17 May
This spring Brooklyn Bridge Park has thousands of Spanish Bluebell flowers blooming. On that account, they have launched their 2nd Annual Bluebell Photo Contest! Head over to the Brooklyn Bridge and take photos of the beautiful flowers to be submitted for awesome prizes! 
Visit WWW.BROOKLYNBRIDGEPARK.ORG for more information and contest rules.
Weekend Outings in NYC's Art World
Posted on Monday, 13 May
This weekend marked the start of a sensational, jam-packed month in New York City's esteemed art world! Did you visit the Metropolitan Museum of Art on Thursday to see the opening of "Punk: Chaos to Couture", travel to Randall's Island Park for a Friday at the Frieze, explore the Metropolitan Pavilion's Pulse art-fair on Saturday, or skip the city's storm and humidity to stay dry and investigate MoMA's "Rain Room" on Sunday? If you didn't, not to fear! The exhibitions at the Met and MoMA are still open! Check out New York Magazine's week by week Agenda here for even more upcoming events.
Penumbra Tintype Portrait Studio Mother's Day Special!
Posted on Thursday, 9 May
Our Penumbra Tintype Portrait Studio is having a special Mother's Day promotion! Come in on Saturday, May 11th, and get a great deal on two Tintypes for Mother's Day.
We have package deals for both of our Tintype sizes, so you can have one made for you and one made for Mom.*
Quarter Plate Package:  
$112 for two 3.25 x 2.25 plates
4x5 Plate Package:  
$144 for two 4 x 5 plates
Walk-ins are welcome on Saturdays
*Please note that the second plate will be a nearly identical plate to the first with the same subject, setup, lighting, and composition.


Please visit us online to see available appointment times, 
to book a session, and to visit our portrait gallery at 
 Email us with any questions at tintypenyc@gmail.com.


Regular tintype s
essions are available: 
Every Thursday from 12pm to 6pm
Select Saturdays from 11am to 7pm
New York, NY 10016
(Between Madison Ave & Park Ave South)
We're Stuck on Gum!
Posted on Friday, 12 April
Check out Brenton Hamilton's "Man of Stars," a beautiful Cyanotype print with Gum Washes and Gold Leaf (above). This creative print goes to show how versatile the gum printing process can be.
Gum printing can stand it's ground alone, or play nicely with other processes. You may have seen a gum print and not even known it! Gum Birchromate printing can result in monotone prints, or full-color images. In the process, gum arabic is combined with a dichromate & water-soluable pigment to create an emulsion.
Depending on how many passes you do (and with how many different colors), the results can vary widely. It's also common to see gum combined with other processes, such as cyanotype (check out the rest of Brenton's portfolio here for more Gum over Cyanotype love), or Platinum.  You may recognize this famous Gum over Platinum print by Edward Steichen, for example.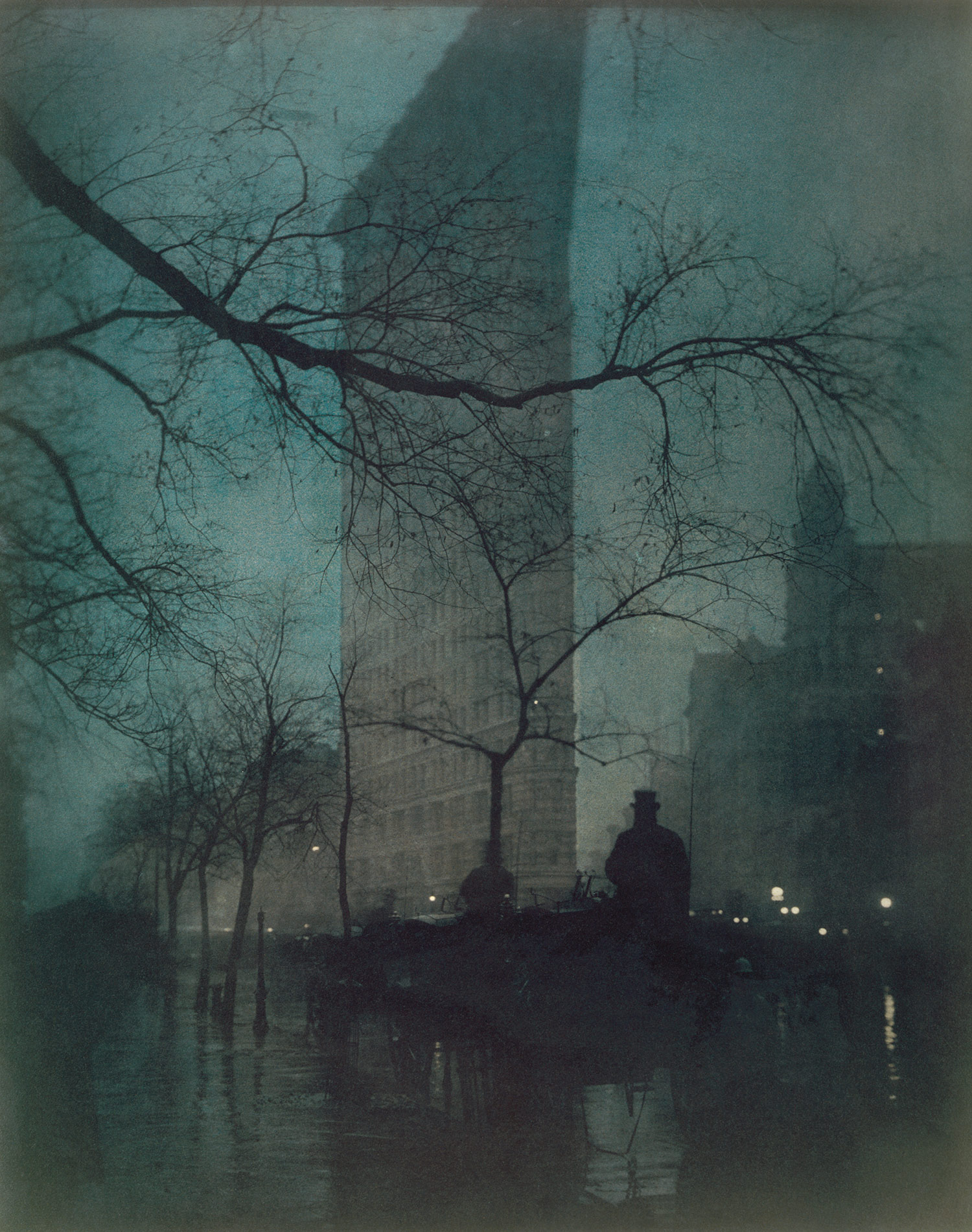 Gum printing was a favorite of the Photo Successsion and Pictorialist movement.The movement focused on the value of having a deliberate and conscious affect on the artistic quality of the photographs an artist was making. This artistic, soft-focus, painterly quality, they felt, separated the snap-shooters from the real photographers.
Come learn what made the Pictorialists love this process with us at Brenton Hamilton's workshop, April 20 & 21 in NYC. Register online here! And hurry, registration closes TONIGHT!
Posted on Monday, 8 April
Selected photographers from PDN's 30 will hold a panel discussion. Featuring Lisa Elmaleh, one of our beloved instructors at CAP!
Great for young photographers who are serious about building a career in the field.
PDN 30 Panel : Wednesday, April 10th at School of Visual Arts Theatre - 333 West 23rd Street, 6:30 PM